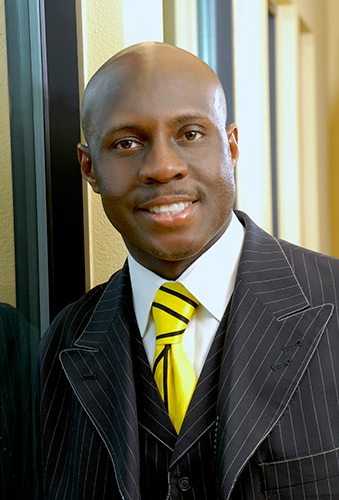 Dr. Allen S. Turner is the Pastor of St. Matthew's Baptist Church in Livermore, CA, where he has a congregation that numbers over 900 and growing. He has been a member of St. Matthew's for over 28 years. His father, Dr. Allen Turner was a driving force behind the building of St. Matthew's church.
Dr. Turner is a native Californian. Upon graduation from California High School in San Ramon, California, he attended Texas Christian University, in Fort Worth, Texas. He later received his teaching credentials and Doctorate of Divinity in Biblical Studies from the Sacramento Theological Seminary and Bible College in 2004.
Dr. Turner is very busy doing God's work:
Teaching – He teaches degreed education programs to church members and the community at large through the Sacramento Theological Seminary and Bible College.
A progressive leader, Dr. Turner continues the legacy started by his late father to spread the gospel beyond the walls of St. Matthew's to the community, the state and throughout the world. He also founded a non profit organization to help aid men and women in dire need. As a result many new ministries are operating under this new ministry such as:
Chaplain services for the Alameda County Sheriff's Office – Inmate Services. This prison ministry provides an opportunity to minister to over 6,000 souls daily for Santa Rita Jail and Glenn Dyer Jail
Chaplain Services for the Alameda County Juvenile Hall – This ministry provides opportunity to minister to the youth in our juvenile hall system and help turn their lives around
Youth Ministry Outreach – Realizing today's youth are "at risk" spiritually and morally, Pastor Turner is devoted to providing spiritual outlets in which our children can learn and grow
Youth Tutoring Program – The tutoring program has been instrumental in raising grade point averages from 2.0 and lower to a minimum of 3.0
God's Love Christian Academy – An accredited curriculum for Pre-Kindergarten through 4th grade
Youth Christian Club – Supervised Christian youth can fellowship together with the community on the weekend to provide their own entertainment through talent shows, displaying their talents in singing, gospel rap, traditional gospel, praise dancing and performing arts
Sponsored youth conferences. The conferences are designed to enrich and empower our youth to become future leaders
Dr. Turner provides spiritual consulting and counseling to at-risk and tragedy stricken youth at the Livermore High School
Sponsoring Youth Career development workshops and activities that provide avenues for encouraging youth at an early age to begin thinking about college
Dr. Turner is on the Human Services Commission for the City of Livermore. He continues to develop community relationships with the City of Livermore, the counties of Contra Costa, Alameda and San Joaquin and the State of California. With over hundreds of churches in the Alameda County to choose from, Governor Schwarzenegger chose Dr. Turner to participate in the Governor's Luncheon.
He has authored four books: "The Deacon's Handbook", "Servant-Hood" and "How to Understand and Hear the Sound of God's Voice". His latest successful book is "Saved Singles Surviving a Seductive Society".
Dr. Turner is married to his childhood sweetheart First Lady Yolanda Turner, and they have four children: Lamar De'Andre, Adojinah, and twin girls Alaisha and Ashley.
Dr. Turner has a genuine love for his sheep and a passionate desire to ensure that all who are entrusted in his care will be welcomed in Heaven when God deems to call them home.